I welcome you to our clinic. As a board certified pediatrician I am pleased to provide all the care your child needs from birth to adulthood. On arrival at our warm and relaxing clinic facility, our friendly staff will make you feel at ease. I will perform detailed and extensive preventive health checks and immunizations for your infants and toddlers. Teens, adolescents and young adults also need immunizations, regular check ups and school physicals. I will help with maintaining a healthy weight or nutritional guidance.
If your child happens to get sick, we have a 24 hour phone number where you can speak with the pediatrician. We will see your child at the earliest available appointment and usually within 24 hours. I provide personalized medical care to your newborn baby soon after birth. We are passionate about keeping your child healthy today, tomorrow and decades to come. Centrally located on Ogden Avenue in Downers Grove, we serve Chicago and the western suburbs. We have convenient weekday evening, and Saturday morning hours. Call (630)929-3009 to schedule an appointment…Sincerely, Dr. Akin.
Your child achieving their ideal body weight is a delicate but constant balance between energy intake and expenditure. Children store up energy from food and drinks consumed, and spend energy in the form of physical activity. It is our goal to help you find the combination of energy intake and expenditure that works best for your child and family. We will also develop a plan to incorporate this balance into your daily schedule in order to create a sustainable lifestyle change. Balance! is a pediatric practice which specializes in helping overweight children and youth lose weight and subsequently maintain a healthy weight.
Exploring our website, you will find the services we provide, and activities that you and your family can enjoy. Taking small but persistent steps, you will be on a path to a healthier weight.
Balance! Pediatric Clinic & Weight Center
Our new Clinic hours are as follows:
Monday: 8am-4pm
Tuesday: 8am-4pm
Wednesday: 9am-1pm
Thursday: 10am-6pm
Friday: 8am-4pm
Saturday: First and 3rd Saturday of the month.
We are closed for lunch 1-2pm on weekdays
2525 Ogden Ave. Downers Grove, IL 60515
Dr. Akin is a board certified pediatrician who has been in pediatric practice for over 20 years. She obtained a Masters in Public Health in Applied Epidemiology.
learn more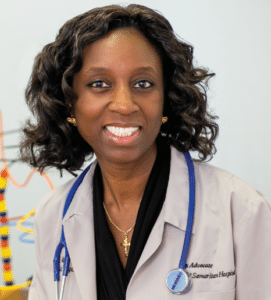 Dr. Akin, board certified pediatrician
Akin explains how the entire family can achieve a healthy lifestyle!